Welcome to Hidden Lake Ranch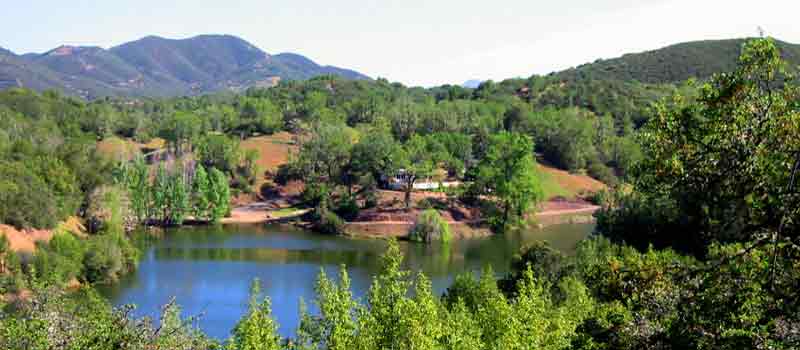 Nestled in its own private valley and surrounded by rolling hills, Hidden Lake Ranch is a very special place. Located in scenic Lake County, California, the Ranch is home to the abundant wildlife of the region -- deer, wild turkeys, bald eagles, osprey, herons, egrets, otters, geese, ducks, rabbits, lynx and coyotes. Most importantly, the Ranch has a feeling of serenity and peacefulness that is entirely unique.
The pristine twenty (20) acre spring-fed Hidden Lake is exceptional in its beauty. The lake is abundant in all water life, including large frogs, huge turtles and prolific native bass. A smaller second lake, the Lily Lake, is shared with a neighboring property. It is called the Lily Lake because of the beautiful carpet of lilies that bloom each spring. The Lily Lake is a native breeding ground for wood ducks and, of course, the ever present bass.
The 202 acre ranch has one large pasture and two other smaller meadows ideal for farming, grazing and recreation. The soils of the pasture and meadows and abundant water make for ideal farmland and the property has the perfect soils and southern exposures for vineyards on surrounding high benches. There are miles of hiking and horse trails up and over the surrounding oak and madrone covered hills. A meandering creek runs through the property almost all year and an all-year artesian well feeds the irrigation of the main pasture.
The house, a remodeled farm structure from the turn of the century, sits on a knoll overlooking Hidden Lake. The house has an open floor plan downstairs, including a modern kitchen, living area and access to the large deck surrounding the house. Two upstairs bedrooms look out over the Lake. Landscaped beautifully with cedar decks under huge oak trees, with a koi pond and other amenities, the house echoes the magical and truly soothing atmosphere of Hidden Lake Ranch. A large boathouse sits on the edge of Hidden Lake. It has a refrigerator and bathroom to make even more comfortable the canoe and kayak trips out on the Lake.
On the main pasture is the picturesque old Hidden Lake Ranch barn, beloved by local artists. Closer to the house is a modern three stall barn with corrals, loafing shed, and tack room. Tool sheds, a large horse arena with attached round pen, a campsite, and and a stand-alone cookhouse for entertaining and picnics complete the improvements to the Ranch property.
Hidden Lake Ranch is located just six miles from Lakeport, California. Lakeport is on the shores of Clear Lake, the largest natural freshwater lake wholly within the State of California. Clear Lake is a destination for tourists, waterskiers, catchers of fish and those just seeking to breath the freshest air in the entire state.
Contact Information
General Information: info@hiddenlakeranch.com
Webmaster: webmaster@hiddenlakeranch.com